M.M. Roberts Stadium Seating Chart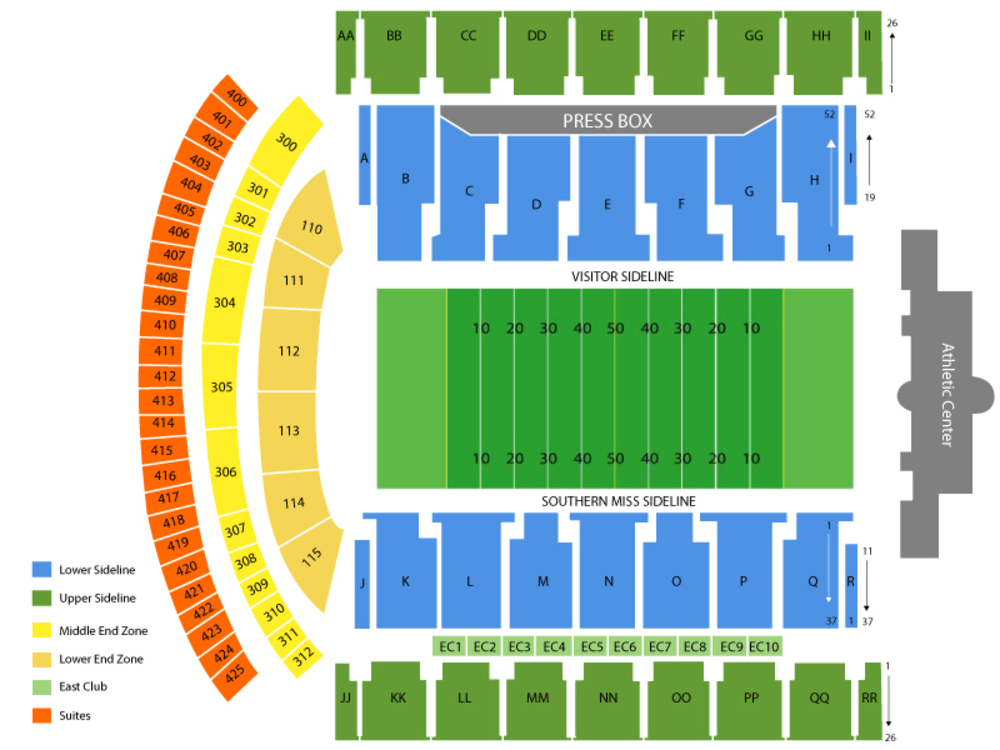 NOTE: Depending on the type of event, the seating configuration may be subject to change. Always check the individual event seating map displayed when selecting your tickets.
Most of the seats in M.M. Roberts Stadium are bleacher seats. Additional chairback seating is available for purchase during each home game at the boy scouts kiosk inside of each entrance gate.
Chairback Seating
Seats are available in the Eagles Nest Club sections, 300 Level Endzone sections and in the South Endzone Suites. Chairback seats can be found in rows 1-7 of sections DD-FF too.
Sidelines
Southern Miss sideline is located in front of sections D, E, and F. Where else, visitor sideline is in front of sections M, N, and O.
Visitor Seating
Available in sections Q-R on the lower level, and in sections QQ-RR on the upper level.
Shaded and Covered Seating
Approximately 15% of the seats in the stadium offer some type of shade or cover. Do look for the below seats if you are attending a day game to defend yourself from the scorching sun.
Rows 31 and above in Section K
Rows 14 and above in Section 114
Rows 1 and above in Eagles Nest Stadium Club 10
Rows 1 and above in Section 307
Rows 1 and above in Section 312
Rows 1 and above in Section 400
Club and Premium Seating
At the top of the lower level along the east sideline, the Eagles Nest Club offers excellent views and premium club comforts. Fans are treated to chairback seats, smaller seating sections with no more than 5 rows, and access to an upscale club concourse which provides views of the field and food & beverage available for purchase.
Near the middle of the 300 level south endzone, the Touchdown Club is one of the most comfortable seating options available at M.M. Roberts Stadium. Each section has just 4 rows of seating which are comprised of comfortable chairback seats and impressive legroom.
Fans here will have a head-on view of the video board at the north endzone and are also treated to private concessions and restrooms, covered seating, and an indoor concourse with multiple television monitors.
Amenities are available for Southern Miss home games. For other events, some amenities may not be available or offered.
Best Seats at MM Roberts Stadium
Club seatings will always have the best seats in the stadium. However, if you are restricted by budget, you can choose to seat anywhere in the midfield sections for a great view of the field.
If you are looking to impress a guest, sections 303-306 come highly recommended. Guests will experience premium amenities from the Touchdown Club, chairback seating with legroom and head-on views of the video board.
Secure your tickets today by selecting your desired seats. Visit the M.M. Roberts Stadium schedule to view all upcoming events.
To view our ticket & refund policy please visit the ticket information page.